How to start a Blog website in 2022
How to start a Blog website in 2022
This is my easy, step-by-step guide to learn how to start a blog and make money from it.

After completing this guide you will have a beautiful blog that is ready to share with the world. This guide is made especially for beginners. I will walk you through each and every step, using plenty of pictures and videos to make it all perfectly clear. If you get stuck or have questions at any point, simply send me a message and I will do my best to help you out.
Disclosure: Please note that some of the links below are affiliate links and at no additional cost to you, I'll earn a commission. When you purchase hosting using my Bluehost affiliate link, they compensate me, which helps make this guide free of charge to you. Know that I only recommend products and services I've personally used and stand behind.
Step 1: Select a perfect niche for start a blog
A niche site is just a website that focuses on a small part of a broader market with the end goal of monetization. There are multiple paths to make money with niche sites, including through affiliate marketing programs, ads, online courses, digital products, consulting, sponsored posts, and more.
Step 2: Pick a domain name
What is Domain Name?
A domain name is an identification string that defines a realm of administrative autonomy, authority or control within the Internet. Domain names are used in various networking contexts and for application-specific naming and addressing purposes. –Wikipedia
A domain name can be any combination of letters and numbers, and it can be used in combination of the various domain name extensions, such as .com, .net and more.
The domain name must be registered before you can use it. Every domain name is unique. No two websites can have the same domain name. If someone types in www.yourdomain.com, it will go to your website and no one else's.
The price of a domain name typically runs between $12-25 per year.
A domain name is an essential part of having a website, but it's only part of the equation. In order to launch a website, you'll also need content and a hosting service to store your files so they can be accessed on the internet. Remember that owning a domain does not mean hosting is also included.
Step 3: Select a web hosting plan for start a blog
What is Web Hosting?
Web hosting is a service that allows organizations and individuals to post a website or web page onto the Internet. A web host, or web hosting service provider, is a business that provides the technologies and services needed for the website or webpage to be viewed in the Internet.
Websites are hosted, or stored, on special computers called servers. When Internet users want to view your website, all they need to do is type your website address or domain into their browser. Their computer will then connect to your server and your webpages will be delivered to them through the browser.
How to Register a Domain Name for Free?
If you want to register a domain name to start a blog or make a website, then this is the best option for you.
Normally, a domain name costs $14.99 / year and website hosting plans start from $7.99 / month. This is a lot of money if you are just starting out.
Luckily, Bluehost has agreed to offer our users a free domain name, and SSL Certificate.
Basically, you can pay $2.95 per month for web hosting, and you will get a domain name for free, so you can start your website without a lot of money.
$2.95 $8.99
BlueHost – Extremely fast & reliable hosting with plenty of advanced security add-ons
Powers 2M+ websites worldwide
Automatic WordPress installation
Free domain & website migration
30-day money-back guarantee
Other Best Web Hosting Services
Step 4: Choose a blogging platform for start a blog
Before diving in the list, it is helpful to know what you're looking for in a blogging platform.
As a beginner, you'll want a blogging platform that's easy to set up, has a low learning curve, and doesn't require any coding skills.
You'll also need to think about what kind of blog you want to create, now and in the future.
As your blog grows, you may want to change the look of your site and add more features for your growing audience. That means it's important to choose a blogging platform that's flexible, with room to grow.
The Top 5 Best Blogging Platforms and Blog Sites for 2022
WordPress — Best for highly scalable and customizable blogs
Wix — Best for beginners building a professional blog
Squarespace — Best for photographers, artists, and designers
LinkedIn — Best for networking with thought leaders and influencers
Medium — Best for writing to a built-in audience
Starting off with the wrong platform can make it very difficult to switch later on. We believe that WordPress.org outperforms all other blogging sites. It is powerful, easy to use, affordable, and the most flexible of all available blogging platforms.
Advantages of WordPress
It's easy for all users
It support multiple users
Site maintenance is easy and modern
Modular development
Unlimited Pages & Features
Fresh look & Modern Content Management Process
Design changes are simple
Best security
Modern customer support
SEO friendly features and support
Developer and Community support
Total Control of website
Step 5: Start a blog on WordPress
When you signup with the new version of Bluehost using our link, they will automatically install WordPress for you. This new version was recently launched to make it easier for non-techy users to create their blog.
What this means is you simply need to login to your Bluehost account, and then click the Login to WordPress button to get started.
You can also login to WordPress by simply going to yoursite.com/wp-admin/ directly from your browser.
If you are using a different WordPress blog hosting service like Hostinger, HostGator, Hostpapa etc, then consider the step by step instructions for those providers below.
To install WordPress in cPanel, first log into cPanel of your website by entering the username & password provided by your hosting company. Then try to find out the Softaculous Apps Installer. Which is actually a one-click apps installer. It is really easy to use.
Click on WordPress software Icon.
Software Setup: From install option, you have to setup the software. Choose the version you want to install. Then Choose Installation URL . If your website has SSL Certificate then select 'HTTPS'. If not then select 'HTTP'. You can choose wp as directory or you can leave it empty.
Site Setting: Give a site name & site description.
Admin Account: Give admin username & admin password for admin login. also give an email if you create.
Choose language: English or any Language of your own.
Select Plugin(s): You can select some plugins from here. Mark on the plugins which you want. If you not mark any of the plugins from there, then no problem. you can install the plugins after the WordPress installation.
Advanced Options: From advance option you can Edit database name & Table prefix from there.
Select theme: Select any theme from there or Skip the option.
Then Click on the Install option.
Now WordPress website has been successfully installed in your hosting cPanel.
Once WordPress is setup, you're ready to customize your blog's appearance to make it your own and start blogging.
Step 6: Install a WordPress Theme
The visual appearance of your WordPress blog is controlled by blog themes. When you first visit your blog, it will look something like this:
After completing the Bluehost sign-up process, you would be taken to your new Bluehost account dashboard which already has WordPress pre-installed, you can also log in to your new WordPress website from your Bluehost account dashboard.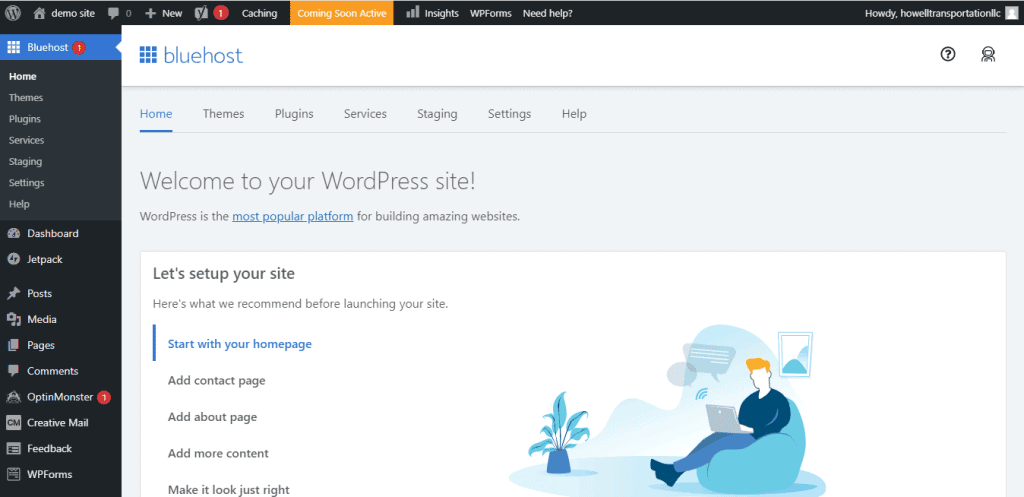 A Theme allows you to customize and design your WordPress website. Navigate to the left sidebar menu and hover your mouse on Appearance and then click Themes, you will be taken to the theme directory page where you can select and install any theme of your choice.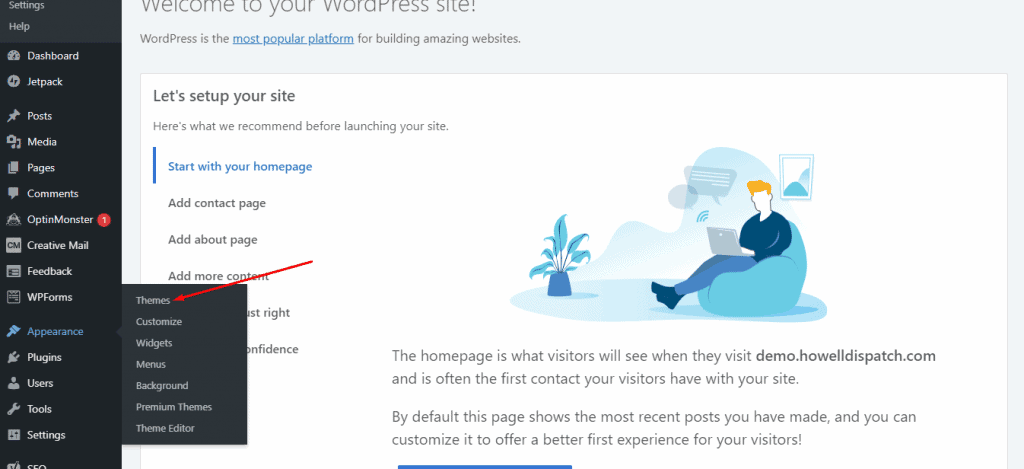 We are going to use the Astra theme to build our news website due to its flexibility and lightweight. Visit the Astra theme website and download the theme on your computer.
Click the download button on the website's homepage to begin the download process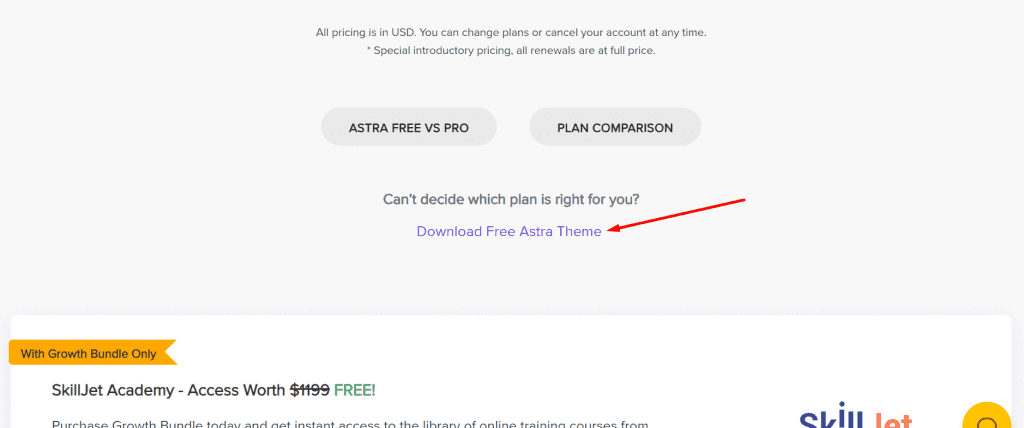 NOT INTERESTED IN ASTRA THEME? CHECK OUT MORE THEMES
In order to install the theme, you must upload the downloaded file to your website. Click on the upload button to do so.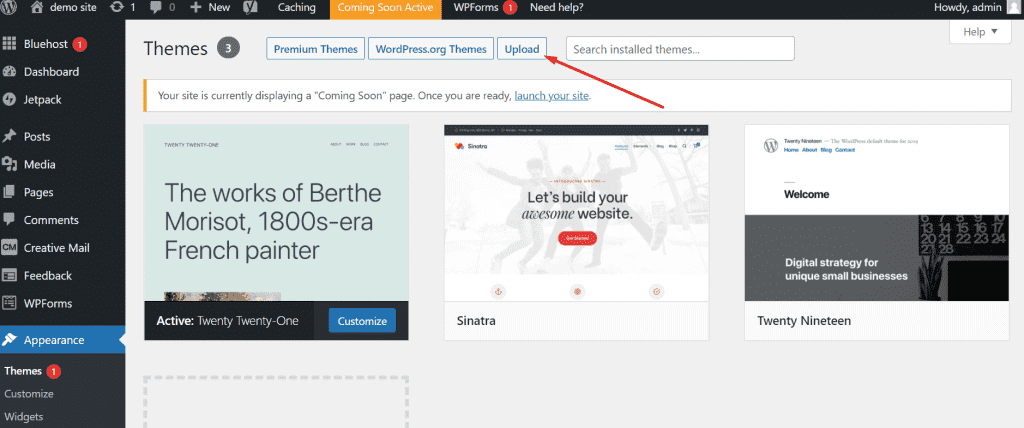 Select the theme file on your computer storage by clicking on the Choose File button, then click the Install Now button to install the theme on your website.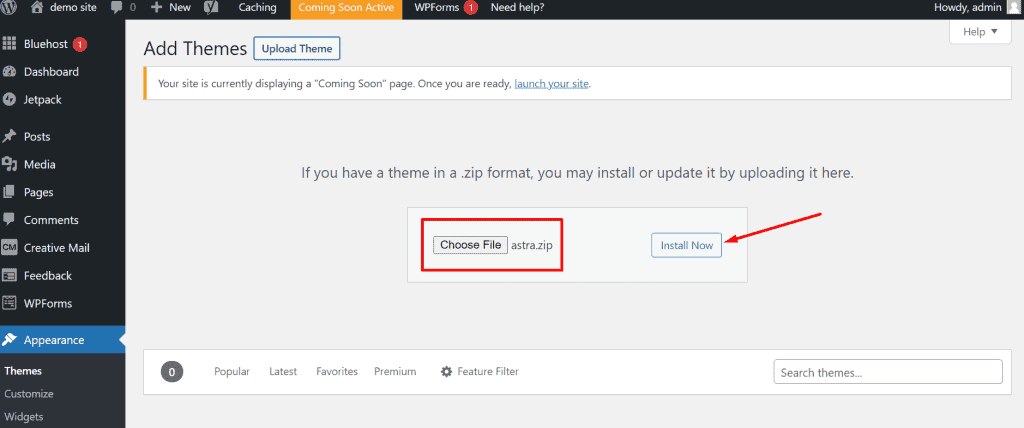 After the theme has been uploaded and installed, click on the Activate button to activate it.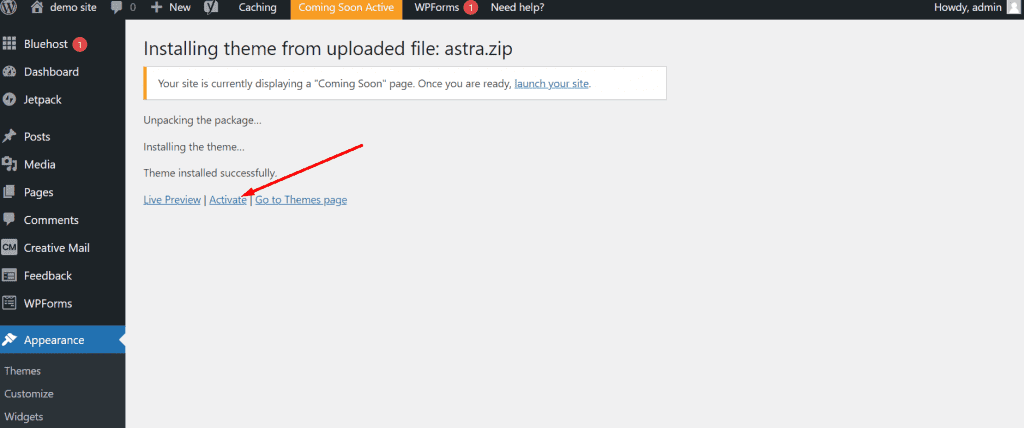 Step 7 : Install WordPress plugins
One of the best parts about WordPress is that it's infinitely customizable. Since it's open-source, you can change it to do whatever you want.
The easiest way to make changes is with plugins. Plugins are little batches of software you can install within WordPress to get extra functionality. This is how you'll add a bunch of extra features to your site without having to code anything yourself.
BUT be careful here and try not to go overboard.
Some bloggers will install dozens or even hundreds of plugins on their blogs. That can cause a bunch of problems later on.
Not only can plugins cause unexpected conflicts with each other, they become a security liability since it's unlikely that every plugin owner will maintain the plugin over time. They also become a huge headache to manage.
When you have that many plugins, you're never sure which plugin is causing a particular problem.
I like to keep my plugins limited to 5–10 amazing plugins.
ACTION STEP: Download helpful plugins
Here are a few of my favorites:
Step 8 : Install Google Analytics
Google Analytics is a free website analytics tool from Google. It allows you to do things like:
See how many people are visiting your website
Find the demographic info of your visitors
See what blog posts and pages are receiving the most visits
But it can get very complicated, very quickly.
This is why we're going to ignore the majority of what's in Google Analytics for now.
All you need to do is create a Google Analytics account and install it on your blog.
And while there are plenty of good reasons to install Google Analytics, there are two big ones I'd point to:
First, Google Analytics stores your data over time. When you're ready to dive in later, you'll be thankful that you've been collecting data since the beginning.
Second, it's exhilarating to watch people visit your site in the beginning. I remember the first time Google Analytics recorded a visitor on my first blog. I thought it was a mistake. "Someone visited my site? Really? Why would they do that? Who are they? Did they like it?"
Seeing those first visitors come in will give you a huge motivation boost. Even if you only check Google Analytics to see your total traffic, it's well worth the time it takes to set up.
It's also pretty easy to set up. Here's a step-by-step guide to help:
Step 1: Log into Google Analytics
This is simple. Go to Google Analytics and click on Start Measuring.
If you're not logged into a Google account, it'll ask you to log in to your Google account. If you have one, do so. If not, create one and log in with that.
Step 2: Create your Google Analytics Account
On this screen, it'll ask you to provide an account name. Use the name of your website or blog for this.
Don't worry about the boxes with the checkmarks for now. You can always change them later.
Once you do that, click on Next at the bottom.
Step 3: Choose what you want to measure
This screen asks you to choose whether you want to measure a website, an app, or a combination of both.
Choose Web since you're creating a blog.
Then click Next.
Step 4: Fill in the property details
It'll now ask you to fill in some details about your website including its name, the URL, your industry category, and your timezone.
Once you've done that, click on Create at the bottom.
Step 5: Copy and paste the tracking code onto your site
Once your account is created, you'll have a unique JavaScript tracking code for your site. When you copy and paste that snippet of code into your site, Google Analytics will start collecting data for you.
Voila! That's it. You are now tracking Google Analytics for your website.
Step 8: Set up your email list
Every marketing engine I've built for companies has relied on emails at its core.
And there's a good reason for that: Email lists are the best marketing tool. Period.
Think of your email list as a giant laser ray you can focus on any offer you want. Selling consulting? Pitch your list to the reader.
Publishing a new blog post? Pitch your list at the bottom of the blog post.
A podcast just interviewed you? Pitch your list to the podcast's audience.
Of all the marketing channels that have come and gone over the years, nothing compares to the power of a high-quality email list.
Even if you're not sure what to send your email subscribers, that's okay. The important thing is you start gathering a list of subscribers and build the foundation early.
ACTION STEP: Create an email list.
Using Constant Contact or other email marketing services, start collecting emails on your blog so that the list is ready for you as soon as you need. It takes time to build a decent size list so your future self will be extremely grateful if you set it up now.
Even a super basic opt-in in your blog sidebar is enough to get you started.
Don't even worry about sending any emails yet unless you want to. The main thing is that you're collecting email subscribers from the beginning. Email lists can be a gold mine once you have a few thousand subscribers, and the money really rolls in once you have 10,000 subscribers and above.
Step 8: Optimize a blog for Search Engine Ranking
Go to your blog dashboard, click Yoast SEO > General in sidebar.
Now click on the "Webmaster Tools" tab and hit "Google Search Console".
After clicking, you will need to login into your Gmail account. If you've already logged in, click "Alternate Methods" and select "HTLM tag" option.
After clicking, you will have a new drop down with Meta tag properties. From this code, copy content value or alphanumeric string without inverted commas.
Paste this into "Google Verification code" field under "Webmaster Tools" tab. And then click "Save Changes".
Now click "Verify". And now, your Google Webmaster Tools configuration is done.
Next, Go to Yoast SEO and click "Search Appearance".
And then click on the "General" tab. Now select a title Separator. Enter your blog title into SEO title box and blog description into Meta description box.
Next, choose "organization" if your blog represents an organization otherwise choose "Person" and enter your name in next field.
Click "Save Changes".
Next, Got to Content Types tab, enable Show posts in search results. Show or hide "Date in Google Preview" whatever you want.
Enable Yoast SEO meta box. And apply same setting for pages. After completing, click "Save changes".
The next tab is "Media". Setting this to "Yes" is recommended.
Next you'll find Taxonomies. It gives you control to allow/disallow categories and tags in search result pages. Set "No" for both to avoid duplicate content issues.
Finally, Click "Save Changes".
You can set the settings of the other tabs according to your own requirements.
Next, Go to Yoast SEO > General. And then go from the Dashboard to "Features" tab. Enable all features by clicking on the "ON" button.
And finally click "Save Changes" button. And so, you've done Yoast SEO settings for your blog.
Set Up Blog Post Permalinks
Permalinks are your blog post URLs.
They play an important role in SERP (rankings). Google love short and descriptive permalinks. (This is why I said categories are important, they may reflect in your URLs and that affects your SEO.)
Go to "Settings" in the left side and then click "Permalinks".
Select "Post Name" and hit Save Changes. Post Name format is the most widely used format. I also use the same format here at UpdateLand.
Now, your blog is optimized for search engines. Time to write your first blog post or in other words, start blogging? Let's jump to the actual "How to blog" part.
Step 9 : Creating blog content
Posts are treated much like digital entries into a journal. Posts are displayed in chronological order with the most recent post at the top. Pages and posts are both key components of a WordPress site.
Login to your WordPress Dashboard.
Click the Posts link in the navigation menu.
Enter your page content in the available field. You can use the Editor to format your text.
Step 10. Making Money From Your Blog
Now that you've created your personal blog and customized it to your liking, you are probably wondering how can I actually make money blogging?
There are a lot of different ways to successfully monetize your blog. However there is no such thing as a get rich quick scheme. Don't be fooled by the pictures of expensive cars and mansions because those are all fake.
As long as you're willing to put in the hard work and effort, you'll reap the reward. Remember, there are no shortcuts.
Here are some of the best ways to make money from your blog.
1. Google AdSense
Many bloggers make money by showing ads on their blog. If you make a blog with monetization in mind, then Google AdSense is the best way to do this.
It is the largest advertising platform for bloggers and publishers. Acting as a middleman between you and the advertiser, Google allow advertisers to bid for keywords matching your content. This allows you to get the best rates possible for the ads.
2. Affiliate Marketing
Affiliate marketing is the second most commonly used monetization strategy among bloggers. Basically, you recommend your favorite products / services to your readers, and when they make a purchase you get a referral commission.
The key in affiliate marketing is to recommend high-quality products and services that you already use and trust. There are plenty of affiliate marketing plugins and tools for WordPress that can help you make more money when promoting affiliate products. We recommend using PrettyLinks or ThirstyAffiliates as a must have.
We also have a complete step by step affiliate marketing guide for beginners, that will help you get started with choosing the right affiliate program and strategies to monetize your blog today.
3. Online Store
Many bloggers make money by selling things directly from their blog. This could be physical products, digital downloads like ebooks, artwork, music, and more. Some bloggers even offer consulting services.
We recommend using WooCommerce because it is the best eCommerce plugin for WordPress. It is also the most commonly used eCommerce platform in the world.
For detailed instructions, see our guide on how to easily create an online store using WordPress.
Some bloggers don't want the hassle of creating a store to sell their own products, so they create an Amazon affiliate store which lets them sell other people's products from Amazon and earn a commission.
On top of the 3 methods above, you can do so much more with your WordPress blog. You can make WordPress blogs specifically for reviews, fashion blogging, food blogging with recipes, and more. Each of these blog types brings you more unique opportunities to make money.
You can also turn your blog into a membership site to offer premium content and courses. We have a detailed guide on how to create and sell online courses with WordPress
TAGS
how to start a blog,how to start a blog in 2022,start a blog,how to start a blog for beginners,starting a blog,how to start a blog step by step for beginners,how to start a blog and make money,start a blog in 2022,how to create a blog,how to start a blog on wordpress,how to start a blog in 2021,how to start a blog 2022,how to start a successful blog,starting a blog for beginners,start a blog 2022,blog,how to make a blog,how to start a blog with bluehost